August 2019 BEETLES Leadership Institute Participants
In a few short weeks, 50 program leaders and 9 emerging leaders will meet in Portola, CA for our BEETLES Leadership Institute. This will be our biggest Institute to date, and we are excited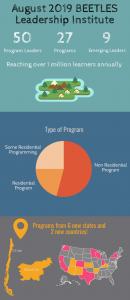 to be joined by such impressive programs and leaders who are working hard to make an impact in the communities they serve through outdoor science education. The program leaders that will be attending, represent 27 organizations from 15 states, including six states not yet represented at previous BEETLES Institutes: Arizona, Arkansas, Kansas, Kentucky, New Mexico, and Utah. Collectively, the August 2019 Leadership Institute program participants serve an audience of over a million learners each year. In addition to these 15 states, we also have leaders attending from Chile and Slovenia.
In August 2018, BEETLES  invited the first cohort of Emerging Leaders to the Institute. Interest in the Emerging Leaders program has increased, and we're excited to have nine emerging leaders from across the country to join us in August. The goal of the Emerging Leaders program is to support the next generation of racially, socio-economically, and culturally diverse leaders to help foster a more representative, responsive and relevant environmental education and outdoor science experience for all communities. The impressive group of August 2019 Emerging Leaders are committed to the field of outdoor science education and are looking to step into leadership positions as they grow their careers in the field. We are excited to learn from and work with these amazing educators!
The Leadership Institute will be held at the Grizzly Creek Ranch in Portola, CA from August 11-16. The week-long program aims to build participants' leadership expertise to incorporate effective practices into professional learning experiences for their staff members.
This is the last BEETLES Leadership Institute funded by our NSF-AISL grant. While we're sad this will be our last Institute for now, we're excited to explore future opportunities. (Recently, we led our first regional Leadership Institute in Oregon, and we'd love to collaborate and work with other regions, too!)
Leadership Institutes are also an opportunity to build a learning community among participants and we are eagerly counting down the days when everyone meets and has a chance to learn from each other! See a list of all August 2019 Leadership Institute Organizations here.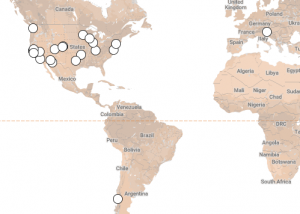 A full map of all participating programs can be found on our Partners Page.