Collaboration Spotlight: BEETLES Oregon Leadership Institute
For some time, BEETLES has been interested in encouraging and helping establish regional "hubs" of outdoor science programs. Part of our motivation is to encourage/promote regional capacity to support professional learning communities for program leaders, educators, and other key stakeholders. We've hoped that these regional hubs could collaborate on professional learning experiences, and exchange of ideas.  In July 2017, Oregon Voters passed Measure 99, authorizing funds from the state lottery to support a week of Outdoor School for every 5th or 6th grade student in Oregon. The Oregon State University (OSU) Extension Service Outdoor School program, the fiscal home for the funding, is leading the charge to support the Outdoor School for All effort and is committed to providing the resources and training that will ensure that all students in Oregon have a high-quality experience. We were thrilled OSU asked as to be a part of gathering leaders together and helping define what high-quality teaching and learning could look like for outdoor schools in Oregon. 
As part of this effort, the OSU Outdoor School Program team partnered with the Gray Family Foundation and the Pisces Foundation to bring BEETLES to Oregon in March, 2019 to lead a week-long Leadership Institute at Camp Cascade in Lyons, Oregon and to support the goal of offering high-quality outdoor school programs across the state.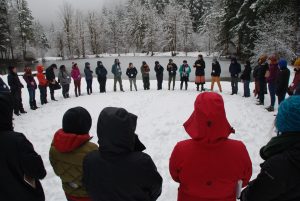 This Institute brought together leaders from 20 outdoor school programs across Oregon for a week of learning, expertise sharing, and community building. The OSU team worked to create a balance within the types of programs that were selected to attend with the goal of creating a strong, supportive network of organizations across the state. The OSU team intentionally brought together larger and more established programs, and smaller, more grassroots programs working to build capacity. OSU has regional coordinators stationed in the Portland metro, southern, eastern, and central regions of Oregon. These regional coordinators support the organizations in their area to connect, collaborate, and develop programs. OSU also sought a balance in geography among our Institute participants, and tried to bring at least two outdoor schools from each area of the state, to form regional groups that would work together and support each other after the BEETLES Leadership Institute. The OSU team hoped the shared experience at the Leadership Institute would help build a strong network of providers across the state, and start conversations and connections that would support shared efforts and common goals.
Despite the snow, rain, and constant threat of power outage, participants jumped right in at the Institute. They were willing to share honestly about their strengths and challenges and to think hard about how to create equitable and inclusive access to outdoor experiences. Leaders from established programs offered mentoring support and coaching on many of the logistical aspects of running an outdoor school, and newer organizations brought eagerness, openness, and new insights. There were many rich conversations about how to use BEETLES to improve programming, and how to build on the experiences at the Leadership Institute to support outdoor education across the state.
Since the Leadership Institute, organizations have already started incorporating BEETLES into staff professional learning, including BEETLES methods into field instructor trainings, shifting field experiences for students, and modeling BEETLES approaches for high school leaders who assist field instructors in teaching. This June, three months after the Leadership Institute, BEETLES staff led a webinar for Oregon Leadership Institute participants to connect and check in about what they've done so far, and challenges and successes that have emerged. Read on to see quotes from organization leaders around Oregon:
Impacts from the Institute
"Since the Institute, we've revised our introductory hike. Now, we do I Notice, I Wonder, It Reminds Me Of on the 3-mile walk in to our program. We've also started doing Professional Learning sessions. We led Making Observations and Questioning Strategies. The staff really latched onto broad questions after that. We started doing coaching as well, Grace has observed each instructor once, in the last three months. A few of our instructors have wanted a count of how many broad questions vs. narrow questions they asked.
We've also started including some BEETLES activities, the most popular has been Discovery Swap. We have taught a macroinvertebrate lesson before, but started doing it in the Discovery Swap version of it. When one of our instructors taught Discovery Swap, a teacher said "I've been coming here for years, and that's the most engaged my students have been."  
–  Megan Selvig,  Opal Creek Ancient Forest Center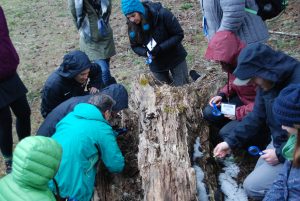 "As the Oregon Natural Resources Education program, we provide Professional Learning for educators around the state. We've used BEETLES in one of the workshops with K-6 educators. We kicked off the workshop Walk & Talk and NSI, it was really well received and set the tone of the workshop. They were blown away. For Walk & Talk, we did questions on systems work together, because we were going to be looking at a curriculum about forests and systems.We asked things like: 'What are systems, where do you see them? How do natural systems and human systems work together?'"
– LeeAnn Mikkelson, Oregon Natural Resources Education program 
"I found the biggest impact we've had is how collaborative our staff is. It's really helped us model, everyone has something to learn, everyone can get better, our program can always improve. By having these resources and new ideas, staff are really excited about improving their craft."
– Megan Selvig, Opal Creek Ancient Forest Center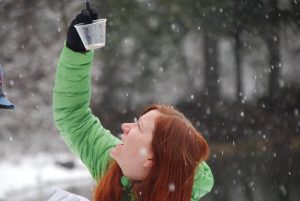 "I've gone on 6-7 different site visits in Oregon, to many programs who had attended the Institute. Several of them were already using BEETLES right away. One organization's whole journal had I Notice I Wonder It Reminds Me Of as a structure for how their students were journaling, and one organization did the activity To Each Its Own this is with high needs kids, it went really well." 
– Benno Lyon, OSU Regional Coordinator. 
"It's been really easy to use all the stuff from the institute. So far, we've been able to integrate BEETLES activities into day school visits. It's been going well, I'm seeing more engagement in students than I had before. Using questioning strategies to engage rather than just talking about a topic and giving all the answers up front, this is really key. We're still in the process of developing curriculum for the fall, for an outdoor school program. We haven't had a formal outdoor school or camp program before, and it's really exciting."
– Daniel Collay, Willow Witt Ranch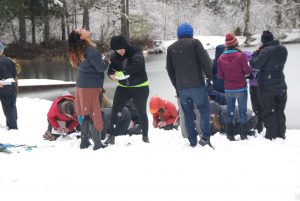 Challenges and Opportunities for Growth
"My biggest question right now is, how do we know what we're teaching them, how effective it is? We used to do a pre-post quiz, 10 questions. We looked at it, and wow, even when we weren't trying to be vocabulary based, it's more concept based and doesn't really get at deeper learning. We're trying to figure out how to replace that. It's a hole we're not sure how to fill." 
 –  Megan Selvig, Opal Creek Ancient Forest Center
"The smaller programs seem to be able to adopt some of the BEETLES Stuff faster, because they're not as big as an institution, don't have to figure out how to train 50 instructors or get people from 5-6 sites on board.  I'm seeing the small programs jump right in, experimenting right away with how they'll do this. With the larger organizations, it seems like it might take longer, and require more planning. 
– Benno Lyon, OSU Regional Coordinator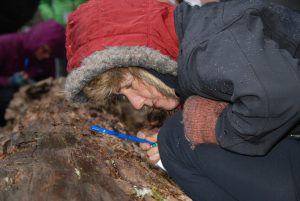 "One challenge is, there's lots of turnover in this field. How can we support program leaders who are implementing BEETLES, to go beyond just planning things themselves, to making sure there is a system in place to support BEETLES no matter who the leader is? We want to encourage people to put the really well written, clear systems into their program plan, so it's clear for someone who comes in. We hope to do something to support that effort in organizations."
– Renee O'Neill, OSU Curriculum and Professional Development Coordinator
Looking Forward
"I've been noticing a lot of excitement about BEETLES in the organizations I've been able to visit. People are excited about it and implementing it, and I'm curious how we can best support folks moving forward. We've talked about get togethers, statewide or regionally, and we're planning on using some BEETLES activities in an Oregon Science Teachers' Association conference. 
It will be interesting to see how organizations with high school student leaders who teach along with field instructors will model BEETLES for their high school student leaders. I think it could be really great. BEETLES is approachable for a new teacher, you can explore together with the students, you don't have to know the names of all the plants to explore and observe them with the students. It takes the pressure off needing to be an expert, and allows them to share the expertise they do have."   
– Amy Hoffman, OSU Regional Coordinator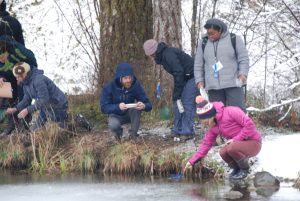 "One of the big things I'm seeing a need for is organizations finding time to build their curriculum and work with others in the region to incorporate BEETLES in their lessons. I think maybe we could use the BEETLES guide, Creating Effective Outdoor Science Activities to frame a workshop in the future, giving people more tools and time on how to use the Learning Cycle to change your curriculum.
– Renee O'Neill, OSU Curriculum and Professional Development Coordinator
"We're planning to share the BEETLES activities with our 38 facilitators throughout the state, leading workshops to share the tools."
– LeeAnn Mikkelson, Oregon Natural Resources Education program
"There's so much excitement from the Institute in March, and we're wondering, how do we continue to keep that fire? After the institute, many participants said, 'We NEVER get to get together like this, having time together was so useful.' We want to continue to bring providers together. I think we want to aim for gatherings once a year or twice a year. It would be awesome to keep offering opportunities to connect with other providers, to discuss how we've all used BEETLES. There has been SO much excitement and enthusiasm throughout the state. I feel like it's going to take over Oregon!" 
– Renee O'Neill, OSU Curriculum and Professional Development Coordinator
Interested in bringing the BEETLES to your region? Reach out! We'd love to hear from you.