Partnerships in the Pandemic Spotlight: Sierra Nevada Journeys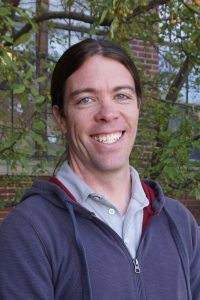 Sean Hill is the Vice President of Education at Sierra Nevada Journeys (SNJ) in Reno, Nevada. He shared advice on getting the attention of school districts when there wasn't an established partnership already. We spoke with Sean about Sierra Nevada Journeys's Fall pilot of an outdoor, in-person weekly program at Incline Elementary School, located in Incline Village near Lake Tahoe in California. 
This interview is part of our Partnerships in the Pandemic series on outdoor, in-person learning.
BEETLES: Please share details of the partnership between your organization and the school you're partnering with. How did it come about, and how is it funded? How did you build this connection with the district? 
Sean: This program is a new thing for us, and was one of the only in-person programs we were able to do this fall due to the pandemic. The idea was sparked by the National COVID-19 Outdoor Learning Initiative [co-founded by Green Schoolyards America; the Lawrence Hall of Science; San Mateo County Office of Education; and Ten Strands]. We met together as a team, built out a concept, and wrote it out. We created a two-page overview of the concept with an operating budget. We work with quite a few school districts in both Nevada and Northern California, and we approached three of those districts with the concept of the SNJ Outdoor Classroom during COVID-19. We started at the district level and actually pitched it to principals in three different school districts in the region, as well as higher level administrators such as district superintendents in Plumas County, California, Washoe County, Nevada and Twin Rivers Unified School District in Sacramento, California.
We highlighted the benefits of being able to bring students outside to do outdoor education. As schools were opening this fall with new distancing requirements, a lot of students were missing out on outdoor education experiences. We pitched our program as a way to save the outdoor experience for kids, while also supporting efforts to reopen and distance safely.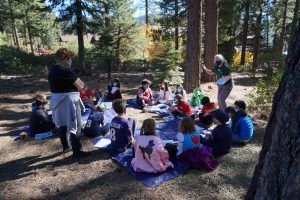 We had interest from principals and administrators from all three districts, but where the rubber hit the road was the funding. Everybody said, "Yeah, we love this idea, but we don't have any money for it." It kind of hit a wall.  From there, we started pitching the idea to the philanthropic community. We linked up with one funder that was excited about the concept, the Incline Education Fund (IEF), a fiscal project of the Parasol Tahoe Community Foundation. The IEF  expressed interest in funding a pilot at a local elementary school, Incline Elementary in the Washoe County School District in Nevada. We approached the principal Dan Zimmerman, after  having the funding aligned, and he loved the idea, so we started working in tandem with the principal and the funder, and our team built out the pilot. 
BEETLES: Can you share a little more about the logistics of this partnership? How is it set up, and who is working with students?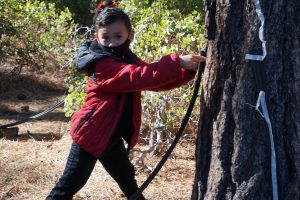 Sean: We came up with a one day per week program pilot. Sierra Nevada Journeys would send two part-time educators to the school on Fridays, working with first through fifth grade at the school. The educators stay outdoors. This particular school is in an area with easily accessible outdoor space near the school. The kids can just walk to this outdoor classroom that our educators have set up. 
We had a big meeting with all the teachers and the principal over Zoom, both to introduce the idea and brainstorm the format. We didn't really know how long sessions should be, or how we should set the schedule rotation. Together, we came up with these 45 minute rotations. It has worked out well, and seems to be an ideal chunk of time. For the younger grades, the teachers have commented that any longer, and the behavior management aspect would be hard. 
On any given Friday, our educators will see at least three of the grade levels. The class sizes right now are 18 to 22 students, so two educators lead programming for a whole classroom at a time. They'll see some of the grades one Friday, and then we'll rotate and see the rest of the grade levels the next Friday.
We initially went in thinking that the programming each week would be tailored with input from the classroom teachers. However, the teachers were enthusiastic about the idea of outdoor education and trusted our instructors to "show up and do our thing".  The classroom teachers would then observe what our team was teaching the students and then "riff" on that content back in the classroom.  
That was a nice format because there's flexibility for our team, but we've subsequently exhausted much of our developed curriculum resources. We're burning through our curriculum quickly with the volume and frequency of sessions. We usually see kids in a program four or five times total, and our programs are not built to see kids over a whole school year. That being said, this pilot period is 16 weeks, and we have the curriculum to get us through the entire time period.
BEETLES: How is it going so far? What have been some successes and challenges that have emerged?
Sean: The pilot has received great reception from the school. The teachers and students have been  stoked with the program. It's been a great opportunity for the kids to get outside, and the teachers love the change of pace for the students. The students have enjoyed the hands-on lessons and enthusiasm of our educators. 
Both the funders and the school want to expand this program in the spring. One of the challenges is that we're going to need to recruit, hire and train up new staff to fit this part-time teaching model. We were able to rehire two of our part-time education staff for this past fall's pilot program, but in the spring, they're both moving on. We won't have the benefit of hiring folks "from the bench"  who are already trained with us. And because we've already gone through most of our curriculum, the staff that we do hire is going to need to be proficient in curriculum development. We're also exploring partnership options with other local outdoor and STEM education groups. It's a new way of operating, and I think we can do it.  
Another challenge at this particular school is that it's over a mountain pass. It's 30 miles from our home office, which is where our educators live and (usually) work. Transportation is a challenge. The nature of having a part time staff in an area where there could be a lot of snow is tricky. If they have to go over a pass and don't have cars equipped for winter roads, that could be an issue.
Luckily, we have not had any major storms, but the transportation piece is important. If we continue to do this in the spring, it would be nice to try to regionally locate our next round of teachers so they live closer to the school.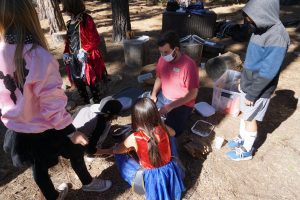 One of the early challenges was that as we were teaching outside with masks on, it was hard for the instructors to be heard. The communication piece was challenging, so we invested in some microphone systems. The mics attach to a hip belt, and then project for the teachers, which has been really helpful.
As for the successes, it's amazing to be able to successfully run an outdoor education program right now. The teachers are excited, and the kids are pumped up, it has been a success story for us in 2020.  We're excited that we've been able to employ some staff. It's just been a really positive project in those ways.
Another positive is that it has allowed us to engage with a new funding partner. The Incline Education Fund was new to us and they are very invested. It also has given  us experience with an exciting pilot to share with the community. We're approaching schools with this pilot as an example. 
BEETLES: How have you considered equity and access in setting up this partnership, and where could you improve in this area?
Sean: For us, equity and access is more top of mind now than it has ever been. When we think about our audience and who we're serving,  our goal is to serve the communities that have been historically marginalized. There's a long list of what those communities potentially look like – Black, Latinx, Indigenous, LGBTQIA, students from refugee families, low income populations. 
This pilot was interesting because it was kind of like the "tail wagging the dog". We had a funder that had already pointed out a school. While the school was more or less pre-determined based on the location of the funding partner, we were able to ascertain that there are students there that typically could have access barriers to these experiences. There are definitely those students in the school, and that was really important to us. Because of families' varying levels of comfort in the pandemic, we can't control who is showing up in-person to the school. But, for whoever is showing up to the school, we can provide an in-person program, and the opportunities to do that these days are few and far between. When you look at the demographics of the school, it is in a high income area, but there are definitely pockets of poverty in Incline Village. The school itself has a free or reduced lunch eligibility rate of 45 percent. Additionally, 47 percent of the students are Latinx/Hispanic.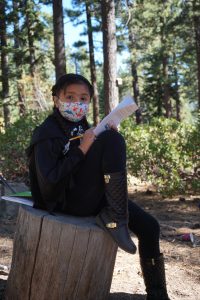 Concurrently with all of this happening, we're conducting a community needs assessment. One of our goals is to redesign our school outreach programs, and redesign them with an equity lens. Historically, what we've done is build the program to be the best that our biased team thinks is the best, and assume it'll be good for every student. Instead, we're now talking to our communities. We're holding listening sessions and focus groups and interviews with students, teachers and community-based organizations that are specifically tied to or working with communities that are historically marginalized. We're working with the goal of redesigning this program with an equity lens so that is culturally relevant to those communities that have less access. 
The second goal of the community needs assessment is to redesign our program for financial sustainability. The organization has gone through so much change over the last year, and our resource base is much different than before the pandemic. All that to say, we're doing a lot of evaluation right now to find out what the "2.0" version is going to look like. This pilot program is certainly going to inform us as a part of that needs assessment, and as a part of that "2.0" rebuild.
We can't wait to be able to just do our thing back in person again as soon as we can. This opportunity has afforded us a new model to consider – the idea of an in-house Educator at a school site. The jury's out on this one because there's a breadth and depth consideration here. One piece about equity for us is making sure that our programs can reach a lot of students, and that we can provide our programs to a lot of different students. Our pilot model definitely represents less breadth, but we get to spend a lot of time with the same group of kids. It's a different mindset for us, and I can't say which way we're going to go yet.
BEETLES: Do you have any recommendations or thoughts for outdoor education organizations seeking to form partnerships with K-12 schools or districts at this time?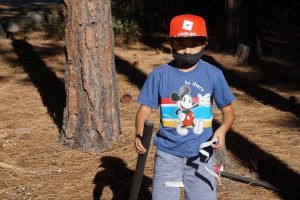 Sean: If you do have contacts at school districts, whether it's teachers or administrators, try to get a phone call and bounce the idea off them and see what they think. If they like it, then I would suggest writing it up into a one-page proposal with a budget. Just build a really simple framework that folks can follow, and include a statement of need. Sometimes we have conversations and people are interested, but then it's hard to follow up. The one-pager creates a more tangible touch point, and that can really help in bringing things to fruition. You have a template where you can start that becomes sort of a ticket into advancing. And, if that doesn't work initially, you can also float the same one-pager by potential donors.
With this document, we were really trying to get at their needs that are unique to this moment in time. For example, we're finding that Social Emotional Learning is really important. It's really top of mind because kids have missed so much school, and that in person interaction with peers and adults outside of the family is critical right now. Teachers are nervous about what that will look like when kids come back. Sierra Nevada Journeys has typically been STEM-forward and academics-forward. Right now though, we really had to get a sense for what people need. Obviously, as outdoor education providers, we have many competencies in social emotional development. And that might be the thing that comes through right now, as opposed to science learning, or even outdoor exploration. As you think about proposing a partnership, try to get at what the need is, and then you can shape your one-pager to really highlight those pieces.
By the Numbers
Students served: 225

Instructors employed: 2

Incidence of Covid at the time of this interview: none
Read about how other programs are navigating outdoor, in-person learning: Partnerships in the Pandemic.