Tale from the Field: BEETLES in a Day Program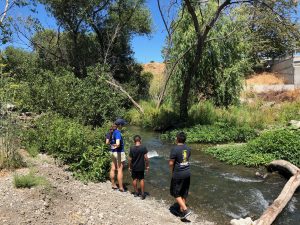 When BEETLES began hosting Leadership Institutes, we focused on Residential Outdoor Science Schools. Over later Leadership Institutes, we have expanded our audience to other outdoor educational programs including nature preserves, day programs, nature centers, garden programs, and other types of programs.
Luana Rivera Palacio of the Guadalupe River Park Conservancy attended our December 2017 Leadership Institute. We interviewed Luana to hear about how Guadalupe River Park Conservancy has implemented BEETLES within the context of a shorter day program in an urban setting, how they have used BEETLES to support their central program goals, and their approach to hiring instructors that reflect the communities they serve.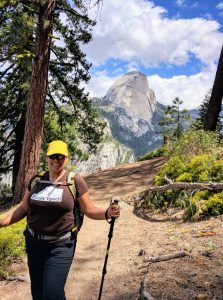 BEETLES: Tell us a bit about your background and your program.
Luana Rivera Palacio: "I was previously the director of the Boys and Girls Club in San Jose's Japantown. I loved my role and one of the most transformative experiences of that journey was taking the members on field trips. One summer we were able to cobble together enough funding to go to Yosemite; we were away longer and farther than previous trips and I could see the kids grow and change as we spent more time outdoors. When you take students out of their classroom or daily environment, they don't know how to act or behave, so they have to create a new way to be – new ways to explore and interact. Driving the van home, I thought to myself, "I wish I could do this more often."
"The Guadalupe River Park Conservancy (GRPC) is located in the heart of San Jose. Our education programs consist of biweekly, bilingual drop-in classes for 2-5 year olds called Beginning Environmental Explorers (BEE); environmental education internship opportunities; a homeschool program for 6-12 year olds; adult and family programs; field trips for people with special needs of all ages; an after school and summer partnership with the Boys & Girls Clubs; community events including Pumpkins in the Park and our Water Festival; and our popular field trips. All programs take place at the Guadalupe River Park & Gardens."
"The field trip program currently serves the most students, just over 3,000 in 2017. We offer field trips for kindergarteners on up through college students; the majority of participants are from K- 6th grade. Classes come to us from throughout Santa Clara County and our field trips take place from 9:30-11:30am. GRPC applies for grant funding that allows us to offer full program and transportation scholarships to classes from Title 1 schools, so children who might not otherwise have the opportunity to come on our field trips get to do so at no cost."
"We value being place-based and providing the opportunity for all members of our community to form a personal connection with nature in the urban greenspace provided by Guadalupe River. That is the core of who we want to be."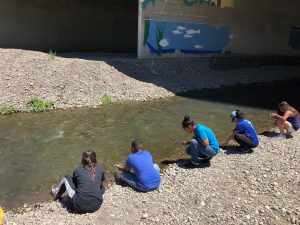 BEETLES: What kinds of changes and BEETLES implementation have you done since the Institute?
Luana: "Once we honed in on the central goals of our program, we could focus on being open to learning ways BEETLES could help us change the program to better support those goals.
"We changed the structure of our program in response to BEETLES. On field trips, we used to have 4 stations that were 20 minutes each. They were very much lecture-based and teacher-led but had the advantage of breaking a large class into smaller groups. But BEETLES focuses on student inquiry and discussions, which flat out takes more time. We moved to 3 30-minute stations and limited the overall class size. Next year, we'll pilot 2 45-minute stations with 2 guides at each station (4 total) to see if that's the right mix of time and content to make sure we reach our goal of students being able to form their own connections with nature through our programs."
"The Leadership Institute gave us a clear path of how to take activities like Discovery Swap and Stream Detectives, that we could just take and use right away, in our program. It also led us to find the confidence to make activities of our own. In evaluations, the teachers who take field trips with us have shared that they highly value programs that support what they are doing in classrooms; BEETLES helped us align what we do at Guadalupe to what teachers are doing in schools."
"We used the Making Observations professional learning session to introduce BEETLES to our staff. We were able to jump in and apply it right away. We started doing I Notice, I Wonder, It Reminds Me Of as a station on our garden field trips. Our staff experienced success through engaged students, using the field cards and extra BEETLES materials like videos, and using some of the discussion strategies we learned at the Institute. We're using that momentum and in August, the staff is looking forward to our second professional learning session."
"We have started using Group Agreements that were introduced at the Leadership Institute as a foundation for staff conversations. We call them Guidelines because our environmental educators are called Guadalupe Guides. We choose a Guideline to focus on before every field trip and reflect as a group and in journals after the program. These guidelines help us focus and be accountable internally as a team and externally when we're out with our students."
BEETLES: How has your staff responded to BEETLES resources and tools?
Luana: "Our staff is excited about BEETLES because it was daunting to think about NGSS [the Next Generation Science Standards] and how it would impact our programs. The BEETLES activities were successful, so the staff felt confident in doing them and eager to try more."
"Before going to BEETLES, I was worried about how the staff would react. What if people really like to do this one activity, and don't want to change? When we actually did the trainings, they found they could still do the things they love, like lead the nature walk, and incorporate a new activity such as I Notice, I Wonder, It Reminds Me Of. All it took was the Guides hearing the students being successful. You would walk past the students and hear them saying 'I notice, I notice, I notice' to each other without prompting. The Guides found they were not losing anything, they were gaining something new to add to what they already enjoy."
BEETLES: So you said your students are on site with your program for a couple of hours. What advice would you give about implementing BEETLES to other program leaders who have a similar amount of contact hours?
"Think of the things that work best in your program, and are central to it. What are the key goals of your program you definitely want to keep? Then think about how BEETLES can help you achieve that. Be open to changing the structure of your program to better achieve your goals. Ask yourself how can you keep to your core ideals, and then use BEETLES and NGSS to make that happen. Instead of sticking to something because 'this is how we've always done it,' be willing to grow."
BEETLES: You mentioned that the goals and core values of your program are about place based outdoor education, focused on audiences that may not otherwise have access to the outdoors. Can you say more about why you chose to focus on those goals?
Luana: "Many of the students we serve are from diverse communities, who may think that the outdoors aren't for them because they are not represented in the mainstream space or don't see people connecting with nature around them. As a person of color myself, this is how I felt when I stepped into the formal environmental education setting. When students come here to the Guadalupe River Park and interact with the place, it is in their backyards – we are downtown, central, and accessible. We want them to know and feel the truth when we show them, 'You have a place here, and this place is for you.'"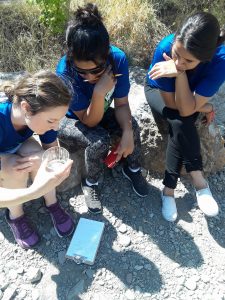 BEETLES: You mentioned that a lot of your instructor guides are from San Jose. How have you built a staff of people who are from the communities you serve?
Luana: "It is a LOT of networking. We reach out to local community colleges, to local organizations and online communities of color. We ask our current employees, 'Who do you know who might want to do this?'"
"When hiring, connections to the communities we serve and speaking the same language as our students do are equally important as outdoor training or having experience teaching students. Connections, language, outdoor training, teaching experience – these are steps to our goal of community members being able to form a personal connection with our park. For example, if we only offer English programming, there are some students who will never be comfortable here. So we currently offer programs in English and Spanish, and will soon add Vietnamese. On staff, we have people who speak Spanish, Portugese, Hindi, Vietnamese, ASL, Tagalog, and Ilocano who are at the ready should a participant need help communicating. It's all about connections, and it is another way of letting people know "this is for you."
"I strongly believe in nurturing your network. Reaching out helps me find and hire people who represent the communities we serve. It also leads to a supportive culture among the Guides once they are on staff and working together. As a program manager, networking helps me share what I've learned and learn from dedicated people in similar roles. I would say this is my most important BEETLES 'got' so far. The Leadership Institute provided a constellation of connections, bright lights to help guide my way."