Environmental Education and the Next Generation Science Standards!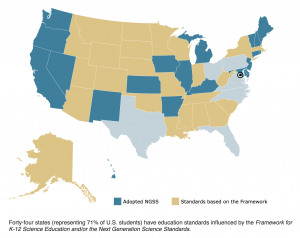 About the Next Generation Science Standards (NGSS). The NGSS represent a significant shift in teaching and learning — a shift from memorizing and recalling facts to focusing on thinking, meaning making, and deep conceptual understanding. We think this is great! These new standards have been adopted by 17 states and the District of Columbia and have influenced dozens of other state standards. It's also not an accident that the Next Generation Science Standards and Common Core State Standards for English Language Arts and Mathematics fit together like pieces of a puzzle with the goal of providing students with coherent, engaging and enriching learning experiences across all topics.
Teaching in Three Dimensions. The NGSS advocates for "three-dimensional instruction." To experience three-dimensional learning, students need to engage in science and engineering practices in order to learn important science concepts (disciplinary core ideas) and make connections to the unifying themes across science disciplines (crosscutting concepts). Science practices are what scientists do, crosscutting concepts are the thinking tools scientists use to make sense out of what they are learning, and disciplinary core ideas are what scientists know. The performance expectations called for in the NGSS, require students to combine these three dimensions to demonstrate their understanding of science. In simple terms, students should use the tools of science to explore and investigate phenomena, in order to try to figure out how the natural world works.
The Opportunity. The broad adoption and implementation of the NGSS is good news for environmental education programs. Reason one: the standards include several performance expectations (across all grade levels) that emphasize understanding humans' impact on Earth and explaining the complex interactions among all living things and the environment. Reason two: there are disciplinary core ideas, crosscutting concepts and scientific practices described in NGSS that are more effectively addressed through extended investigations and direct exploration of the natural world, i.e.,outdoor science field experiences, than they are in the classroom. Outdoor science programs can actively position themselves as an essential element of NGSS implementation. This is an unprecedented opportunity to advocate for the increasing relevance- the necessity, even- of environmental education, and the role it can play in supporting national goals to improve formal science education.
Not enough time for Science instruction in the classroom. According to Dorph, Shields, Tiffany-Morales, Hartry, & McCaffrey (2011), students in California receive an average of 45 minutes of science instruction per week. Given that average, you can think of a four-hour-long outdoor science experience as the equivalent of four weeks of what students receive in school. In two days of outdoor education, two four-hour science experiences would be the equivalent of eight weeks of classroom science. How many weeks worth of science instruction is your program providing? This is a strong selling point for outdoor science programs when communicating with schools.
The Challenge. Rising to the challenge of supporting the vision of NGSS requires significant preparation and focused effort. To support the vision of NGSS, outdoor science programs must create learning experiences in which students engage in science and engineering practices and apply crosscutting concepts in order to learn science ideas. Creating such learning experiences is a complex and challenging process, and developing program-wide approaches for creating outdoor experiences that align with the vision of NGSS requires specialized staff training and adequate collaborative time to make changes to (or to create new) curriculum.
Read more about specific aspects of NGSS
If you're interested in aligning your program with the vision of NGSS, here are a few resources to start with:
NGSS and Outdoor Science Presentation:
Example California Environmental literacy Implementation: